Shah Alam eatery listed on Asia's 50 Best Restaurant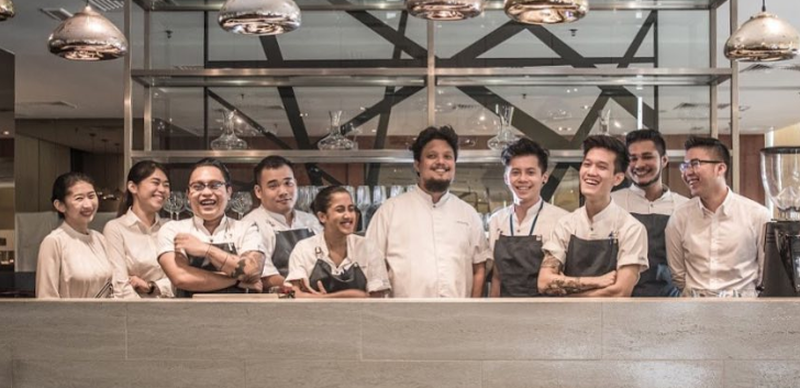 The team at Dewakan. Teoh is fifth from right. (Photo from Facebook)
It is already known that Malaysian street food is increasingly getting the notice of gourmands and foodies the world over.
But it looks like local fine dining is also making waves in the international scene.
It was reported yesterday that Dewakan restaurant was placed 46th at Asia's 50 Best Restaurants 2019 awards ceremony in Macau.
The Shah alam-based eatery has therefore become Malaysia's first restaurant to make it to Asia's 50 Best Restaurants list.
According to a report by lifestyleasia.com, the awards are equivalent to the "Oscars of the food world".
"It's nice to be acknowledged for the work that's being done by all in Malaysia, the farmers, the producers and other restaurants who are pushing it every day as well as our guests and the guys at the restaurant now and before," said Chef Darren Teoh, who heads the kitchen team at Dewakan, told lifestyleasia.com. "It's nice to represent that," he added.
Meanwhile, restaurants in the continent that made the top five in the listing were Odette (Singapore), Gaggan (Thailand), Den (Japan), Sühring (Thailand), Florilège (Japan).
According to Dewakan's website, the restaurant's name was a combination of the Malay words Dewa (god) and Makan (to eat).
The highlights of the restaurant are its 17-course Kayangan menu and 9-course Nusantara menu.
Dewakan's offerings include: Slow Cooked Red Snapper With A Broth Made From Temu, Kid Goat From Boden Farm With Petai-So, Roast Eggplant With Keluak & Candlenut Oil, Mango Curry, Black Banana Porridge, and Sweet Leaf Sorbet & Nam Nam.
"He takes a progressive ethos to dining using 'funky' and naturalised ingredients uncommonly found in Malaysian kitchens, working extensively with local farmers and producers," wrote the lifestyle portal about Teoh.
The Malay Mail reported that the list was created by the people who came up with the World's 50 Best Restaurants.
The list is based on an anonymous judging panel of 318 "industry experts" who have "personally dined" in the restaurants "within the last 18 months".
And what are Teoh's plans after getting such an accolade?
He hopes to relocate his restaurant from Shah Alam to the KL city centre, which will make the restaurant "far more accessible"